QWaLC's board is an integral part of its role as the peak body for natural resource management volunteers. The board consists of a community representative aligned with each of Queensland's NRM regions. This makes QWaLC truly representative of the Voluntary Natural Resource Management groups across Queensland, as our board members highlight the issues in each region.
Board members are elected from each of our 11 regions.
QWaLC board meetings are held four times a year. If you would like to have your views represented to the board or share a particular experience as a community NRM group or NRM volunteer, contact the board member for your region.
Board members (2018-2019)
Geoff Elliot : Chair and Queensland Murray Darling Representative

Initially coming from a rural background, Geoff pursued a career in management of large earthworks projects in the eastern states of Australia and the Pacific Islands, working for several of Australia's major construction companies. An interest in aviation led to Geoff attaining his commercial pilots' license and the position of owner and Managing Director of a large flying training, aircraft charter and maintenance business in Qld.
His undeniable passion for agriculture eventually saw Geoff return to the land, purchasing a superfine wool, sheep meat and cattle production enterprise in the Inglewood region. Living through a pervasive governmental and landholder farming era of 'clear as much timber as possible to increase production' did not sit well with Geoff. His resultant deep seated desire to better manage the property for sustainable production, has led to a broad understanding of traditional and innovative natural resource management issues and techniques.
Over the last 20 years Geoff has been, and still is an active member of numerous local community groups and held representative positions with the local producer organisation Traprock Group, the Border Rivers Catchment Management Association (presently Vice Chair), and Inglewood & Texas Landcare Association (chairman for last 8 years). Geoff was invited to join the QWaLC Board  representing the Qld Murray Darling region, and at the recent AGM was again elected to the position of Chair.
Email:geoff.elliot@qwalc.org.au
Mark Van Ryt : Northern and Southern Gulfs Representative
Mark is the founding Secretary of the Gregory River Landcare Group in North West Queensland. Since 2007 he has established and maintained a number of healthy foods gardens at schools in the remote Gulf Country. The primary focus of the group however is weed control along the iconic Gregory River.
Mark currently works underground for Mount Isa Mines as an Electrician.  In the past he completed a Bachelor of Arts degree and is a registered school teacher. Mark is also a former councillor with Mount Isa City Council. He was elected in 2002 after many years work developing the regional recreational fishery through fish restocking.
Mark has worked at an executive capacity with a broad diversity of volunteer community groups. However his passion has always been Natural Recourse Management. He is now keenly focused on how to engage more volunteers in environmental work through Landcare and our regional NRM groups. He now regularly organises weed control project with volunteers.
Email  Mark.vanryt@bigpond.com | Ph 07 4743 6282
Phil Moran : Burnett Mary Representative
Phillip Moran became a member of Noosa Landcare in 1991 and began volunteering two years later.He was employed with Noosa Landcare as a 'nursery hand' in 1998.In 1997, Phil was the first landholder to commit his property, 'Burrawingee', to Nature Refuge status within the Noosa Shire and subsequently entered into a Voluntary Conservation Agreement with the Noosa Council. He can still be found working and learning at his 'peace of paradise', on this dry hungry ridge of basalt flows and shale, which cascades down to alluvial flats and narrow meandering creek.
Now with more than 30 years' experience Phil Moran is a skilled environmental educator who is trusted by private and public landholders to provide sound advice on conservation, property planning, restoration and sustainable land management.
Email nrmanager@noosalandcare.org
Jason Carroll : Deputy Chair Cape York Representative
Jason has been actively involved in the Cape York Landcare community for 12 years and is happy for people to contact him about Landcare on Cape York.
Email catchment@cooktowns.com
Graham Armstrong : Treasurer and Burdekin Dry Tropics / Mackay Whitsunday
Graham lives near Proserpine after leaving city life to spend time in regional Australia where he continues to pursue a deep interest in NRM related issues. Graham is currently in his second term as chair of the Whitsunday Catchment Landcare Management Committee.
Email:armstrong.grahampaul@gmail.com
Shelly McArdle : Fitzroy Basin Representative
Email
MaryLou Gittins OAM : Secretary and Condamine Representative
MaryLou has been a member of some form of landcare or catchment group for the last 25 years. MaryLou has entire page that covers some of the groups she has been involved in over this time at a local, regional, state and federal level. MaryLou chaired the advisory group that created the current Queensland Water and Land Carers. As a past representative of CCMA Marylou has sat around the Darling Downs Regional Landcare group table. Currently MaryLou is the secretary of the Condamine Catchment Management Association. MaryLou is a strong believer in this movement and is working with QWaLC to ensure a future for volunteers in the environment.
MaryLou was recognised with an OAM in 2019 for service to conservation and the environment.
Email: lcows@bigpond.com
Cameron Tickell : South West Representative
Cameron is a cattle grazier in SW Qld. Cameron is excited to take on this position in QWaLC to communicate his practical knowledge of environmental management, work with others and gather information to create awareness of the need to manage landscapes in Queensland. Cameron is also an earthmoving contractor who has been involved in Rural Property Development specialising in vegetation management for the past 22 years. He has a passion for managing landscapes and returning them to their natural state.
Email:c/- info@qwalc.org.au
Peter Stevens : Board Appointment (1 yr 2018-19)
Peter has had a wide variety of roles in work, including senior roles in business management. In the UK during the 80's, he was based in the West End of London where he oversaw upwards of 50 staff and a multi-million dollar turnover. After some world travel he undertook a role in tourism management (that was fun), and thereafter five years with the CRC for Tropical Pest Management in Brisbane. He has owned and operated a successful beef breeding enterprise in Maleny for the last fifteen years that also hosts farm-stay guests to diversify the business.
Peter's interest in Landcare came about when he purchased his property in Maleny and became involved with local Landcare groups. He has undertaken extensive revegetation and property improvements on his own property that has informed his approach to both Landcare and landholder engagement.
He, along with other talented committee members and staff have overseen the development and activity of the Lake Baroon Catchment Care Group (LBCCG) to build strong relationships with funding providers.
Peter has also overseen LBCCG's recent successful application for Partnership funding from the Sunshine Coast Council. These agreements are central to the ongoing success of LBCCG, ensuring security for staff and an ability to fund projects over long time periods to ensure their success. This success was recently recognised, with LBCCG being a winner of a Healthy Waterways Award in the Rural and Agriculture category. Since 2000, LBCCG has delivered over $3.5 million of on-ground projects in the local area.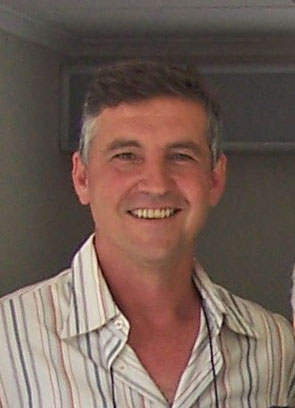 Peter is the Current President of the LBCCG, a position he has held for the last 15 years.
He has also held positions as a Committee Member and Vice President of Barung Landcare and a Committee Member of the Environment Advisory Council for Sunshine Coast Council.
Email:c/- info@qwalc.org.au
Rhonda Sorensen : Wet Tropics Representative
Email: info@qwalc.org.au
Anne Ballinger: Desert Channels
Email: info@qwalc.org.au
Brian Venz : South East Queensland Representative
I am pleased to have been selected to fill the board vacancy for South East Queensland. By way of introduction I have been an executive member and  President of Cubberla Witton Catchment Network (one of the creek based ICM committees in Brisbane) and the Vice President of Brisbane Catchments Network (BCN) the umbrella group for all 11 creek catchment committees in Brisbane. In BCN we say 'community is what we are about, with most member groups being largely volunteer based'. Before retirement I worked in the Queensland public service being involved in the Decade of Landcare, the development of Integrated Catchment Management (ICM) in Queensland, the support of community based NRM through the Natural Heritage Trust, and the early moves to Regional NRM arrangements under the Commonwealth's National Action Plan for Salinity and Water Quality.
Email: info@qwalc.org.au
---