The 25th Landcare Awards celebrated the profound achievements and enduring commitment of volunteers, groups, and professionals. This year, the five Australian Government Reef Programme Awards categories were included, supported by the Queensland Farmers Federation. These awards acknowledge farmers who have implemented improved agricultural practices that deliver water quality benefits in the Great Barrier Reef Lagoon catchments.
---
Junior Landcare Team Winner: Little Gems Children's Centre, Georgetown
Little Gems Children's Centre in the tiny little outback Gulf Country town of Georgetown, has driven environmental changes throughout the centre in a program to teach the children and community how to sustain our environment and be environmentally friendly. Staff have under gone training in Small Green Steps a sustainability program specifically developed for the early childhood learning sector. Activities implemented by the staff at the centre to become more environmentally friendly include the creation of a vegetable garden, litter free lunch boxes, recycling cans from the community, recycling bags for clothes, recycling materials from home for art and craft at the centre, use of recycled materials in the outdoor area, collecting scraps for compost and chooks and the implementation of a worm farm. The centre also worked with government organisations and community groups to create a visual garden at the front of the centre that encourages education and understanding of local plants and flora.
Australian Government Individual Landcarer Winner: Phil Moran, Noosa and District Landcare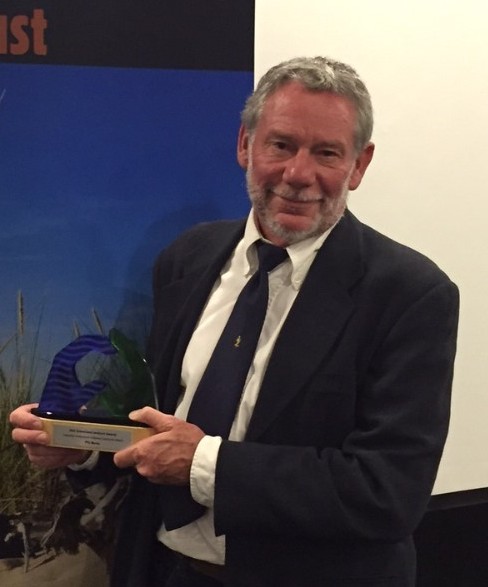 With more than 30 years' experience Phil Moran is a skilled environmental educator who is trusted by private and public landholders to provide sound advice on conservation, property planning, restoration and sustainable land management. Phil is a wise and trusted guide in all matters of a plant nature and a passionate promoter of sustainable natural resource management, who is constantly helping others achieving long term environmental outcomes in the Burnett, Mary and Sunshine Coast regions.
Australian Government Partnerships with Landcare Winner: Balnggarrawarra Rangers
Working together to preserve biodiversity values on Gaarraay Nature Refuge
through the creation of partnerships with local catchment groups, scientists and Traditional Owners, the Balnggarrawarra Rangers have restored access to and are caring for the unique Melsonby (Gaarraay) Nature Refuge. It has connected Gaarraay Traditional Owners back to country, enabling rangers, elders and school students to participate in field trips and events on-country to grow knowledge of country, harvest bush tucker and restore traditional cultural practices.
The rangers have engaged with Traditional Owners and the Qld Parks and Wildlife Service on Rinyirru (Lakefield) National Park to achieve a coordinated approach to fire management in the region.
Coastcare Award Winner: Coolum and District Coast Care
Since 2001, Coolum District Coast Care Inc has consistently worked hard to galvanise energy and public interest in caring for the coastal environment on the Maroochy north shore of the Sunshine Coast and beyond. From the 60 residents involved in the local weeding groups and the monthly group weeds when they converge together at one site, to the enthralling Eco Discovery workshops run over school holidays, and the vigilant turtle monitoring and action network that has grown to finding and monitoring 100 nests in 2013/4 and saved many from erosion by careful relocation, the Coolum District Coast Care team is at the forefront of innovation in community engagement and best practice in coastal management and citizen science.
Indigenous Land Corporation Land Management Winner: Fraser Island World Heritage Area Indigenous Advisory Committee
Through the Recognising and Recording K'Gari's (Fraser Island) Cultural Heritage project, the Fraser Island World Heritage Area Indigenous Advisory Committee provided training to the Butchulla community, leading to additional cultural heritage sites being located including the highly significant Bogimbah Mission grave sites on this World Heritage listed property. Following their training, the Aboriginal Rangers delivered their own training to non-Indigenous Fraser Island Parks Rangers. The committee has established closer ties between the Aboriginal Ranger team and Butchulla elders and broader engagement and stewardship. A highlight of the project was a 2-day Youth Forum held on K'Gari with Butchulla elders with several of the participants now aspiring to be archaeologists as well as taking an active role in the protection of cultural heritage in the future.
Manpower Young Landcare Leader Winner: Naomi Edwards
In her work with Gold Coast Catchment Assoc, Naomi Edwards and fellow National Young Landcare Ambassador Megan Rowlatt co-founded Intrepid Landcare which aims to provide a common space to connect, inspire and empower young Australians to join local environmental initiatives in their communities and across the world.
Naomi Edwards is an instigator of progressive environmental change and is passionate about intergenerational engagement in Landcare. She brings personality and flare to the Landcare movement and her ability to inspire others to connect, act and lead has manifested into many successful Landcare initiatives. Networking and building partnerships is her biggest strength, enabling everyone to be part of the Landcare movement. With experience in in face-to-face community mobilisation, on-ground natural resource management and driving community development projects, grants, marketing and communications, Naomi is known as the "go to" girl to get things happening!
Australian Government Landcare Facilitator or Coordinator Winner: Kay Enkelmann, Burnett Mary Regional Group
As the Regional Landcare Facilitator for the Burnett Mary (based in Wondai), Kay is engaged in a swathe of Landcare activities operating throughout the region, supporting Landcare groups and other community based producer groups and working with them to achieve long-term change and sustainability.
Recently her work has included arranging free one-on-one consultation sessions for South Burnett growers impacted by the 2013 floods , particularly those who suffered extensive soil losses. working with Growing The Burnett on the development of sustainable farming practices and small acreage horticulture. Kay is much loved and highly regarded by her colleagues in BMRG and the Landcare community for her outstanding commitment to rural community groups and the Landcare movement.
Fairfax Media Landcare Community Group Winner: Nerang Riverkeepers
Nerang Riverkeepers is a leading community catchment care group with big dreams, inspiring ideas and great outcomes. They started out successfully restoring Kirkendale Environmental Park on the Gold Coast by planting 3000 native plants, removing weeds and in effect of beautifying the area illegal rubbish dumping stopped. Where an environmental issue exists they have collaborated with the right partners and inspired community action. In total they have approximately 10 known restored sites with various revolutionary 'guerilla' blitzing in between to stitch the patchwork of community action into a significant conservation corridor for biodiversity within Gold Coast's biggest catchment.
Nerang Riverkeepers are wel-known for their innovative Gold Coast's Biggest Tree Planting Day and long-term commitment to restoring critical wildlife corridors and improving the health of the Nerang River.
---
Farmers contribute to Health of the Reef
2015 Australian Government Reef Programme Awards held in conjunction with the 2015 Queensland Landcare Awards at the Reef Range and Red Dust Conference
Farmers have been recognised for their tireless efforts and significant contributions at the 2015 Australian Government Reef Programme Awards held in conjunction with the 2015 Queensland Landcare Awards at the Reef Range and Red Dust Conference Dinner at the Events Centre, Caloundra last night.
These Reef Programme Awards were established to recognise the wide range of projects undertaken by farmers in the Great Barrier Reef catchments; projects aimed at improving the quality of water leaving their farms, as well as on-farm productivity.
It was exciting to see so many young farmers involved in the awards and to hear about the innovative ways they are improving their farms. There were many deserving nominees and hundreds of other farmers who had completed outstanding Reef Programme projects.
Queensland Farmers Federation, joins with Queensland Water and Land Carers, the Regional Groups Collective and industry organisations in congratulating the winners, runners-up, and indeed everyone involved in the Reef Programme.
The winners are: dairy award winner, Dennis Byrnes, Yungaburra; sugarcane award winner, Hill End Farms Pty Ltd, Bundaberg; grains award winner, Royce Staier, Clermont; grazing award winner, Shane and Amanda Watts, Collinsville; and horticulture award winner: Craig and Jade Buchanan, Innisfail.
The runners-up are: dairy, John and Brad Blackwood, Goomboorian; sugarcane, Gerard Puglisi, Mossman; grains, Alan Garside, Lansdowne; grazing, Ross and Mardi Webb, Charters Towers; and horticulture, Eric Coleman, Gracemere.
---
Photographs from the Reef, Range & Red Dust Conference 2015 held at the Events Centre, Caloundra, Queensland, Australia.