Links
Australia Wide
A national non-profit company formed in October 1989 to raise awareness of community Landcare & encourage participation. LAL holds the rights to the 'caring hands' & brokers corporate partnerships with major businesses. LAL supports the delivery of the State Landcare Awards, & the National Landcare Awards & is responsible for Landcare awareness raising community service announcement, including Donate Yourself to Landcare and the new LIFE campaign (Landcare is For Everyone). LAL also administers various funding programs including the Junior Landcare program.
A national non-profit advocacy body for community Landcare which comprises state peak bodies, where they exist, or the equivalent. Formed in early 2009, the NLN provides a voice for community Landcare at the national level. Darryl Ebenezer, executive officer of QWaLC is the Queensland representative of the NLN.
Australian Farmers is the online home of Australian agriculture – serving up the latest news and information, and providing you the tools to have your say on the issues that matter.
Australian Farmers is the online home of Australian agriculture – serving up the latest news and information, and providing you the tools to have your say on the issues that matter.
Our Community is a world-leading social enterprise that provides knowledge on all aspects of running a community group and comprising a range of resources, training, advice and tools.
NRMJobs
---
Find resources for developing and managing effective Volunteer Programs on the Volunteering Queensland web site.
---
Volunteering Australia is the national peak body working to advance volunteering in the Australian community
Accounting for Nature

Other interesting links
http://www.agriculture.gov.au/ag-farm-food/drought
http://communitygarden.org.au/http://www.feralscan.org.au
http://www.chiefscientist.qld.gov.au
Regional Natural Resource Management Bodies

The Burnett Mary Regional Group for Natural Resource Management Inc (BMRG) is the peak coordinating body for natural resource management in the Burnett Mary region.
---
Formed in 1987 with its mission to enhance the quality of life of the people of Cape York Peninsula through economic and community development the CYPDA liaises with all sectors of government, and all relevant industry and business organisations to achieve its aims.
---
Condamine Alliance (CA) is responsible for enabling its community to achieve sustainable natural resource management for its catchment area. We aim to protect and preserve for future generations the land, water and native plants and wildlife of the Condamine catchment.
---
Desert Channels Queensland Inc (DCQ) is a community-based natural resource management body that works to ensure a sustainable social, economic and environmental future for the Queensland section of the Lake Eyre Basin.
---
The Fitzroy Basin Association Inc. (FBA) is a community-based organisation that promotes sustainable development in Central Queensland. FBA involves the region's major natural resource management stakeholders who have an interest in the use and management of the natural resources of the Fitzroy Basin and the broader Central Queensland region.
The Association's role is to promote sustainable development in the Fitzroy Basin through Integrated Catchment Management (ICM) processes.
---
Northern Gulf Resource Management Group Ltd (NGRMG)The Northern Gulf Resource Management Group Ltd (NGRMG) is a not-for-profit community based company that plans and advises on issues and best practice for natural resources in the Northern Gulf region by setting regional priorities and accessing funds for specified on-ground outcomes.
The Group's target is an inclusive, proactive, integrated and cooperative approach to resource management using the framework developed in the strategic plan, and the resources identified in the regional investment plan.
---
NQ Dry Tropics is a community based, not-for-profit organisation established in 2002 to deliver on-ground Natural Resource Management (NRM) and enhance the community's involvement in those activities throughout the Burdekin Region
---
The Queensland Murray-Darling Committee, or QMDC, is a natural resource management (NRM) organisation that supports communities in our designated region to sustainably manage their natural resources.
QMDC provides financial incentives, mapping and planning support, and technical advice to private and public land managers. QMDC does this in order to help communities to put catchment-wide improvements to NRM into practice.
---
Reef Catchments is the Natural Resource Management (NRM) organisation for the Mackay Whitsunday region.   Their focus is on the sustainable management of the regions natural resources (land, water, biodiversity, coasts and marine assets) while maintaining a viable regional community.
---
Now Healthy Waterways and Catchments.
A new organisation combines not-for-profit organisations Healthy Waterways and SEQ Catchments, whose members voted in the change on 28 June 2016. Healthy Waterways and SEQ Catchments will continue to operate under their existing brands while they work through the transition.
SEQ Catchments seeks a sustainable future for South East Queensland's natural resources through community involvement, government and industry partnerships, and innovative on-ground delivery.
They are a community-based business that sources and coordinates investment in activities that help South East Queensland to a sustainable future and restores natural resources for the benefit of future generations.
They act as an intermediary between all levels of government, community and industry in order to make the connections, secure financial support, coordinate activities, provide technical and scientific advice and administrative support to deliver measurable, long-term outcomes for our natural resources.
This generation holds in trust, for the next and future generations, the things they need to sustain us and the environment in which we live, work and enjoy recreationally.
---
South West Natural Resource Management (NRM) Ltd is a community-based organisation and the designated regional body for natural resource management in South West Queensland. It is one of fifty-seven regional bodies throughout Australia and one of fourteen in Queensland.
South West NRM Ltd works with the community, Landcare groups, Traditional Owners, local government and industry groups to achieve sustainable natural resource management, and fosters landcare and catchment management ethics
---
Southern Gulf Catchments is a community-based organisation tasked with strategic and sustainable natural resource management (NRM) planning and implementation in the southern Gulf of Carpentaria region.
---
Established in 2003, Terrain is a not-for- profit public company funded from a range of corporate, government and philanthropic sources. Current key funding programs include the Australian Government's Caring for our Country Program and its key component Reef Rescue, which combined are worth some $16 million, which Terrain will administer on behalf of the region.
Terrain's key role is to support implementation of the Regional NRM Plan by supporting action, facilitating funding and integrating effort to achieve sustainable communities and ecosystems in far north Queensland.
---
The Torres Strait Regional Authority (TSRA) aims to strengthen the economic, social and cultural development of the Torres Strait to improve the lifestyle and wellbeing of Torres Strait Islanders and Aboriginal people living in the region. The Authority's vision is to empower our people, in our decision, in our culture, for our future.
---
Volunteering Links
The story of landcare
A look at some of the people, places and events that have shaped Landcare in Queensland and Australia.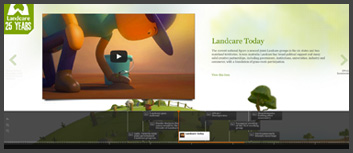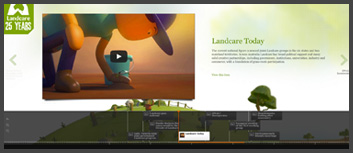 Apply for Membership
QWaLC offers membership to community NRM volunteer groups. This includes groups such as, Landcare inc Coastcare, Bushcare, Catchment Associations, Species-specific protection groups and Friends of groups.
Apply Here