Premiers Award
Teys Australia; Major multi-site renewable energy development and waste water upgrade
---
Minister's Award for Leadership in Sustainability
Alby Wooler – Capricorn Coast Junior Landcare Program
President of the Capricorn Coast Landcare Group. In 1992, he established the Junior Landcare group to encourage young people to participate in local sustainability, resource efficiency and conservation activities. Alby established a Passport Program to formalise Junior Landcare activities, reward participants and encourage others to become involved.
Junior Landcarers earn Passport stamps for participating in activities such as Clean Up Australia Day and National Tree Day. After collecting all passport stamps and spending at least 10 hours engaged in activities, participants earn a Capricorn Coast Landcare Badge of Honour and a year's membership.
---
Special mention of Finalist in Community Award
Bulimba State School – Tangalooma EcoMarine Program
The EcoMarine project is a partnership between Bulimba State School and Tangalooma Island Resort formed to inspire and motivate students, teachers, parents and the community to care for local waterways and marine life. EcoMarine Ambassadors and support crew are recruited from the school's fourth grade, and undertake a mission to 'Save the Bay'.
Students spend 12 months engaged in activities designed to enhance the school community's appreciation for the environment including reducing use of plastics, recycling and cleaning the waterways of Moreton Bay.
---
Built Environment Award
Robert McVicker; The Vicker Ridge is an owner built regenerative high performance home in Logan Village, debunking stereotypes of sustainable living
---
Business Eco-efficiency Award
Teys Australia; Major multi-site renewable energy development and waste water upgrade
---
Community Award
Nambour Rugby Union Football Club Inc; Giving our old landfill a second chance
---
Innovation in Sustainable Technologies Award
Southern Oil Refining; Northern Oil Refinery
---
Rural Award
Mt Pleasant Station; purpose driven not profit driven
---
Small Business Award
Twisted Gum Wines; Sustainable dry land vineyard
---
Sustainability in Education Award
Hilder Road State School; The Fish Creek Project
---
Sustainable Heritage Award
Hanworth House; Extensive restoration of Hanworth House
---
Young Achiever's Award
Bindi Irwin; Australia Zoo Wildlife Warriors
---
Congratulations to the winners and especially those nominated. You are all winners in our books! Team at QWaLC
The story of landcare
A look at some of the people, places and events that have shaped Landcare in Queensland and Australia.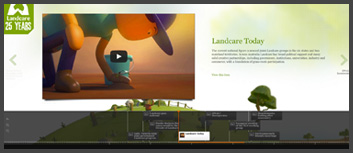 Apply for Membership
QWaLC offers membership to community NRM volunteer groups. This includes groups such as, Landcare inc Coastcare, Bushcare, Catchment Associations, Species-specific protection groups and Friends of groups.
Apply Here