20 Million Trees
20 million trees will be planted by 2020 to deliver real environmental benefits at the local level.What is the 20 Million Trees Programme?
The Australian Government will work with the community to plant 20 million trees by 2020, to re-establish green corridors and urban forests.
The 20 Million Trees Programme is part of the national stream of the National Landcare Programme, and has four strategic objectives:
20 million trees – 20 million trees and associated understorey planted by 2020.
Environmental conservation – support local environmental outcomes by improving the extent, connectivity and condition of native vegetation that supports native species
Community engagement – work cooperatively with the community
Carbon reduction – contribute to Australia reducing its greenhouse gas emissions.
The 20 Million Trees Programme will complement and align with other Australian Government environmental initiatives, such as the Green Army(link is external) and the work of the Threatened Species Commissioner.
The Australian Government has committed $50 million over four years to the 20 Million Trees Programme, with funding from 2014-15. The programme will involve competitive grants, delivered by individuals and organisations, and larger-scale plantings, delivered by service providers.
Competitive Grants Round 2
To assist Applicants to plan their Projects, the Guidelines and other key information for Round Two are now available online. The Application Form will open in early August 2015. Applications must be submitted by the Closing Time of 2.00pm AEST (Canberra time) 16 September 2015.
20 Million Trees Service Providers
The Australian Government has engaged three service providers to deliver large-scale tree planting projects across Australia. The service providers are:
The service providers will re-establish green corridors across our landscapes, provide habitat for threatened species, while also reducing Australia's greenhouse gas emissions. The large scale projects delivered by the service providers will achieve local environmental outcomes and complement other components of the National Landcare Programme.
Local community groups interested in working with service providers are invited to contact the service providers directly to discuss ideas for projects.
The story of landcare
A look at some of the people, places and events that have shaped Landcare in Queensland and Australia.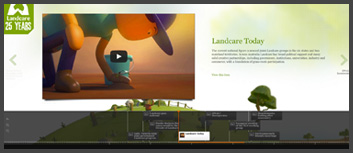 Apply for Membership
QWaLC offers membership to community NRM volunteer groups. This includes groups such as, Landcare inc Coastcare, Bushcare, Catchment Associations, Species-specific protection groups and Friends of groups.
Apply Here