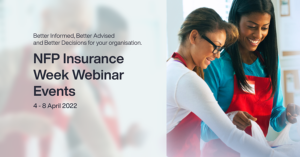 This year, Aon and Our Community are excited to bring to you five free webinars where you can have your questions answered. See below for information on the full program.
These are 5 webinars you can attend
Fundraising at your not-for-profit: prize indemnity insurance and how it can help raise funds for your organisation
Not-for-profit insurance premiums explained: a hardening market
Cyber insurance risk: what is ransomware, and how can you reduce risk?
Protector liability: ensuring your directors are protected, and why boards should be too
Community events: how to protect yourself and your volunteers
The webinars are recorded and a copy is sent out to every registrant by default. If you are unable to watch the webinar live at the scheduled time, you can still register at any of the above links and they will send you a recording you can watch at your own pace and in your own time after the live broadcast.